We received some very positive feedback from TNI participants following the joint symposium held in October:
---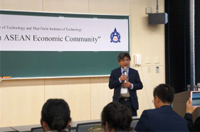 Dr. Ruttikorn Varakulsiripunth
Dean, Faculty of Information Technology
The academic cooperation between Thai-Nichi Institute of Technology (TNI) and Tohoku Institute of Technology (T.I.T.) is not limited to student and staff exchange programs, but there are education and research exchange programs too. One of them is the biennial symposium that is co-hosted by both institutions every 2 years. The first biennial symposium was organized by TNI in Bangkok, Thailand on 27th Agust 2008, and the theme was "Monozukuri Concept and Collaboration between TNI and T.I.T.". The second biennial symposium was organized by T.I.T. in Sendai, Japan during 15-23 October 2010, and the theme was "Monozukuri and Hitozukuri in Global Society". Then the third biennial symposium was organized by TNI, in Bangkok, Thailand on 6th September 2012, and the theme was "Revival from Natural Disaster and Role of University".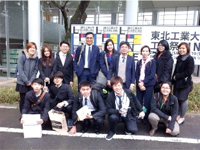 In this year 2014, T.I.T. organized the 4th biennial symposium under the theme "Thailand-Japan: Go with Strength in ASEAN Economic Community" on 17th October 2014. TNI dispatched 13 members, consisting of 5 staff, 3 master's students and 5 bachelor students to attend this symposium and stay in Sendai during the period 15-22 October 2014. The mission of TNI's members was to present their research works and exhibit their innovation, in addition to showing Thai culture.
On this trip we have had a lot of memorable experiences, due to the excellent preparation for this biennial symposium which done by T.I.T.'s staff members. All the preparations for the documents, venue, equipment and procedurse were well done and our stay ended without a single hitch. We were also impressed by the warm welcome and reception, and transportation arrangements from our arrival until our departure. We felt very comfortable and happy during our stay in Sendai.
Moreover, we are so happy that T.I.T. kindly arranged for T.I.T.'s students to accompany and support our students in ways such as guiding and joining our students for dinner and shopping.
Finally, we would like to thank all executive members, professors, staff of T.I.T. for your very warm welcome. We hope to welcome all of you in 2 years' time, for the next biennial symposium in Bangkok at TNI in 2016.
---
【Professor】
Dr. Wipawadee Wongsuwan [Japanese] [English] [Thai]
Dr. Nattida Pucharoen [Japanese] [English] [Thai]
Patsama Charoenpong [Japanese] [English] [Thai]
【Master Student】
Sarisa Panich [Japanese] [English] [Thai]
Jeerana Noymanee [Japanese] [English] [Thai]
Natthaporn Suwunnnakee [Japanese] [English]
【Bachelor Student】
Nutnida Attamatee [Japanese] [English] [Thai]
Varit Asawavetvutt [Japanese] [English] [Thai]
Thanarak Raksi [Japanese] [English] [Thai]
Apicharn Lekchai [Japanese] [English]
Natthakit Tharavecharak [Japanese] [English]