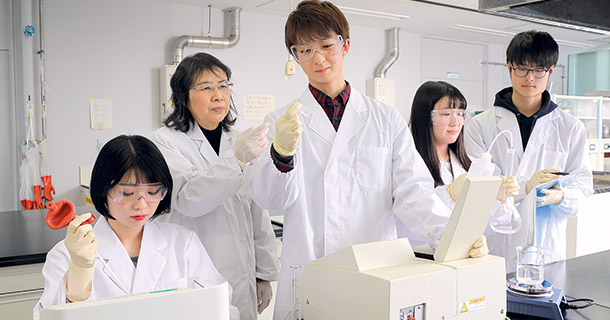 Aiming to help provide a sustainable society through chemistry, students in this department can acquire specialized knowledge and skills.
Students in our department will work to solve environmental and energy problems while utilizing applied chemistry. As budding chemical engineers, students will examine new material development and evaluation, manufacturing techniques, environmental research and evaluation techniques, and environmental conservation techniques. Students will, of course, pursue high ethical standards during their course of study.
The curriculum places emphasis on the fostering of ethically sound engineers who systematically learn applied chemistry and environmental science to realize a sustainable society. Students in the department will choose either of the following two courses from the second year.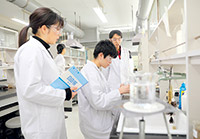 Applied Chemistry Studies
Become a specialist in applied chemistry, a vital component in all modern-day industries.
Applied chemistry technologies such as functional materials are involved in all industries such as those creating chemical products and semiconductor products.
These technologies are the basis for creating a sustainable society. Students in our department can acquire the knowledge and skills necessary to become a chemical engineer.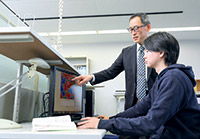 Environmental Studies
Learn various environmental protection technologies and become a specialist in solving environmental problems.
By learning the behavior and biological response of various chemical components that cause environmental pollution, you will acquire specialized environmental problem solving skills, through the examination of air, water environmental and soil conservation and resource recycling technologies.