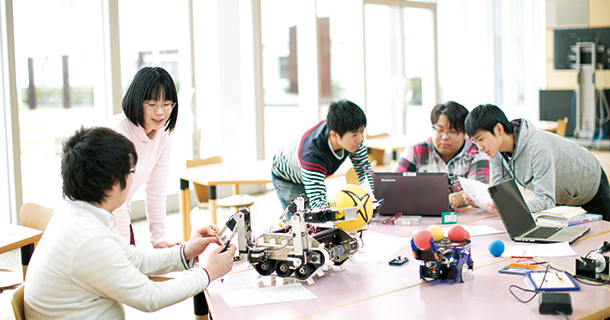 Technologies created through electrical and electronic engineering are widely used around the world and found in such things as automobiles, smart-phones, medical care equipment, electric power, communication equipment, and so on. Engineers who have studied electrical and electronic engineering are indispensable for maintaining a convenient and safe society and for future development in this field. Our curriculum has been designed to cover the educational requirements for students who wish to become highly skilled professionals in this field.
All first and second grade students learn basic knowledge about electrical and electronic engineering while learning general liberal arts subjects. Third graders acquire expert knowledge of electrical and electronic engineering. The 4th grade students will carry out undergraduate research training on one of the following three fields according to their preference: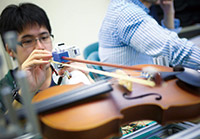 Mechatronics and Robotics
Students will study microcomputers, system control, visual recognition, speech understanding, sensor networks or wearable computing, etc. to make smart robotics and mechatronics equipment smarter.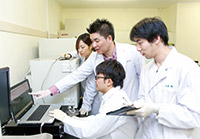 Medical and Biological Engineering
Students will conduct research on biometrics and life science such as bioelectric signals, electrochemistry, medical diagnostic and image measurement technology, or neural networks using iPS cells.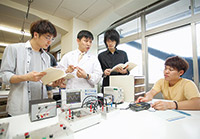 Optical and Information Devices
Students will learn the technologies related to optical and information devices and will research optical elements, display devices, radiation detection devices or devices using nanotechnology.