We now live in a highly developed IT society. Electronic engineering is one of the key technologies driving information technology. It involves the study of a wide spectrum of technologies from materials to devices, equipment, measurement, control, and systems. In the master's program, students carry out research projects with the purpose of becoming highly skilled engineers. In the doctoral program, students focus on their research, aiming at becoming leading academics and engineers.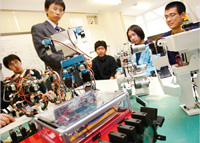 System Engineering Group
Leader: Prof. Toyomi Fujita
Research Themes: Robotics / Acoustic and Communications Systems / Sensor Networks / Integrated Systems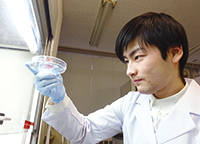 Sensor Engineering Group
Leader: Prof. Shigenobu Kasai
Research Themes: Biomedical Imaging and Sensing / Electromagnetic and Optics Sensing / Image Sensing Display / Biomedical Signal Processing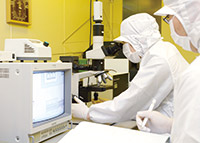 Device Engineering Group
Leader: Prof. Takashi Uchino
Research Themes: Semiconductor Devices / Magnetic Devices / Medical Devices / Nano Devices
Frontline Research
Ikuro Suzuki,
Associate Professor, (2014-)
Professor Suzuki received a Ph.D. from University of Tokyo in 2008. He served as an assistant professor at Tokyo University of Technology (2010-2013) and at Tokyo Medical and Dental University (2008-2009).
Current researches in his lab focus on the development of electronic sensing techniques in human induced pluripotent stem cell derived and 3-D reconstructed techniques of biological tissues to understand the function of brain and expand into drug discovery and regenerative medicine.