Design engineering is an area of study which truly exemplifies the motto of our college, "from creation to integration." The art of design is based on the close relationship among human sensibility, society, the living environment, and scientific technology. Design, production, and ways of expression all have something to do with objects, space and humans, and they should not be studied separately. The interaction among objects and humans, living with nature, and the problems of the regional industrial economy should also be studied based on the unity of various fields of science. Thus, under the principle, "from creation to integration," we aim to equip students with high research ability founded upon rich scholastic knowledge for engaging in professional work in a special field of design engineering or pursuing research activities as an independent researcher.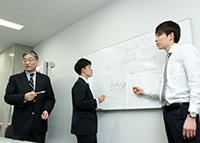 Industrial Design Group
Leader: Prof. Kiyotaka Morozumi
Research Themes: Design Practice for Improvement on Local Production and Life Style / Design Process of Suitable Tools and System for Human Activity / Reconstruction of Regional Industry by Design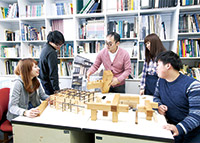 Environmental Modeling Group
Leader: Prof. Masahiro Onuma
Research Themes: Art Work and Research on Bronze Sculpture with Lost Wax Casting / Practical Research on Design and Environmental Modeling / Art Work and Product Development with Natural Dye Technique
Welfare Design Group
Leader: Prof. Hajime Harada
Research Themes: Metacongnition Training for Senior Drivers / Application of Human's Potential Ability to Product Development / Research for Enhancement of Life Motivation and QOL
Life Design Science Group
Leader: Prof. Yuji Koyama
Research Themes: Planning and Evaluation of Heat Circulation of Interior Climate/ Space Design and Involved Production Group and Techniques in Japan / Planning of Co-Operative Residence and Community Design
ALUMNI INTERVIEW
High-quality research and knowledge wins
Kazuki Kyono
Graduated in March, 2005 / M2 Design Laboratory
During my undergraduate studies, my interests for research focused on the design field connected with the function of the physical human body such as medical or welfare area analysis. My research was for a joint development of a new wheelchair. In this research I had a chance to cooperate with other universities and companies and I also got to know my current employer. I believe I am very lucky to work in the environment where I can use my skills. I am grateful to professors who were very kind and supervised me. If you are interested in going to the graduate school, it is necessary to have a strong theme of your research and clear vision for your future. Time Flies. It is maybe a good idea to have a specific image of your near future, and to focus on every single day.