We now live in a highly developed IT society. Electronic engineering is one of the key technologies which support information technology. It involves the study of a wide spectrum of technologies from materials to devices, equipment, measurement, control, and systems. In our graduate school, we educate students and carry out research with the purpose of developing professional engineers with applicative skills. In the doctoral program, we educate students with a focus on research, aiming at creating professional researchers, educators, and highly professional engineers.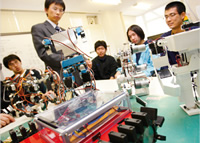 System Engineering Group
Leader: Prof. Tsugito Maruyama
Research Themes: Robotics / Acoustic and Communications Systems / Sensor Networks / Integrated Systems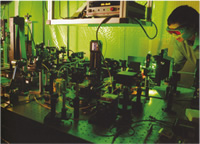 Sensor Engineering Group
Leader: Prof. Masaki Kobayashi
Research Themes: Biomedical Imaging and Sensing / Electromagnetic and Optics Sensing / Image Sensing Display / Biomedical Signal Processing
Device Engineering Group
Leader: Prof. Naoki Honda
Research Themes: Semiconductor Devices / Magnetic Devices / Medical Devices / Nano Devices
ALUMNI INTERVIEW
What an exciting project we had done!
Hideharu Wakamatsu
Graduated in March, 2002 / Maiya High School of Technology
I remember when we made solar cells for the first time with all lab members. We were very excited when we made it. We enjoyed making our solar cells which performed better day by day. I had such great two years to concentrate on my favorite research. I realized that experience was important through a lot of experiments and came to know "You never know till you try". Since then, my initial ideas did not work many times but I didn't give up. Now, many students in my class say "You never know till you try" just like I said. They became stronger by trial and error.
An oral presentation at a conference is great memory as well. I had gained the presentation skill through the preparation and my last-minute power was amazing. It was pretty hard but it certainly was a wonderful experience. I had a closer relationship with my professor and other faculty members and they sometimes helped me financially. I finally decided to be a teacher but while I was looking for a job, they gave me opportunities to take job interviews with some global companies.