The Department of Environmental Information Engineering has three teaching subjects: "the study of computer fundamentals and utilization of computers in engineering solutions (Computer Engineering)," "the study of comprehending, modeling, and solving environmental issues as they relate to engineering projects (Environmental Assessment Engineering)," "the study of techniques for managing and conserving the environment (Environmental Conservation and Strategic Engineering)." We aim at developing students who, as a foundation, have systematic knowledge of the above three skills combined, professional research skills and advanced problem solving abilities.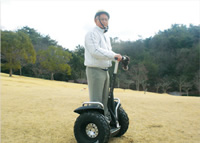 Energy Engineering Group
Leader: Prof. Terubumi Saito
Research Themes: Intelligent Management in Environmental Energy / Storage System of Electric Double Layer Capacitor / Improving Efficiency on Solar Cell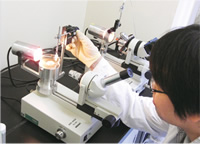 Advanced Environmental Chemical Science Group
Leader: Prof. Shigenobu Kasai
Research Themes: Exposure and Risk Assessment in Chemical Environment / Biosensor for Environmental Monitoring / Carbon Dioxide Recycling System in Use of Artificial Photosynthesis and Algae / Environmental Materials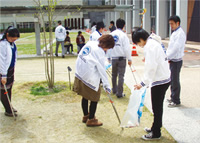 Environmental Science and Management Group
Leader: Prof. Hironori Koiwai
Research Themes: System Analysis on Environmental Policy / Support for Area and Environmental Studies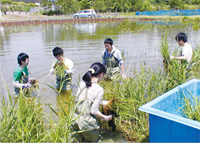 Water Resource and Conservation Ecology Group
Leader: Prof. Kazuhiro Yamada
Research Themes: Water Purification Method by Plant and Artificial Marsh / Mathematical Approach of Ecology and Conservation Ecology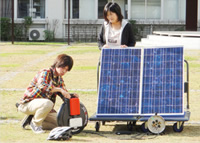 Ambient Light Energy System Group
Leader: Assoc. Prof. Atsushi Sato
Research Themes: Environment Monitoring Laser System / Power Storage System Combined Characteristic Evaluation of Solar Cell and Storage System of Electric Double Layer Capacitor / Semiconductor Device Development; Solar Cell and Semiconductor Laser
ALUMNI INTERVIEW
I found what I really want to do!
Tomoe Uchida
Graduated in March, 2008 / Mitsubishi Space Software Co., Ltd.
My research was about plant vitality in the Tohoku area using of data from the NOAA satellite. My objective as a student was related to the satellite system project which was organized by Prof. Asai. My dream has not changed since then. My current job is analyzing the data from remote sensing systems which is useful to brush up my research ability and technical skills. I was able to find my dream when I was in graduate school. I highly recommend going to graduate school to gain professional knowledge before starting working.