The Department of Environmental Information Engineering consists of three taught subjects: the study of computer fundamentals and utilization of computers in engineering solutions (Computer Engineering), the study of comprehending, modeling, and solving environmental issues as they relate to engineering projects (Environmental Assessment Engineering) and the study of techniques for managing and conserving the environment (Environmental Conservation and Strategic Engineering). We aim to nurture a student body who, as a foundation, have systematic knowledge of the above three skills combined, and who can demonstrate professional research skills and advanced problem solving abilities.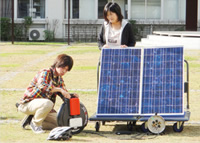 Energy Engineering Group
Leader: Prof. Terubumi Saito
Research Themes: Power Storage System Combined Characteristic Evaluation of Solar Cell and Storage System of Electric Double Layer Capacitor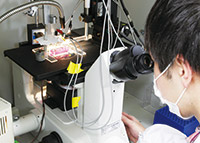 Advanced Environmental Chemical Science Group
Leader: Prof. Yasuko Maruo
Research Themes: Exposure and Risk Assessment in Chemical Environment / Biosensor for Environmental Monitoring / Carbon Dioxide Recycling System in Use of Artificial Photosynthesis and Algae / Environmental Materials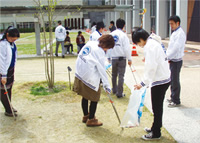 Environmental Science and Management Group
Leader: Prof. Hironori Koiwai
Research Themes: System Analysis on Environmental Policy / Support for Environmental Study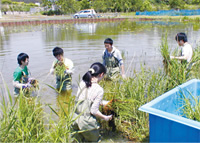 Water Resource and Conservation Ecology Group
Leader: Prof. Kazuhiro Yamada
Research Themes: Water Purification Method by Plant and Artificial Marsh / Mathematical Approach of Ecology and Conservation Ecology
Frontline Research
Yasuko Maruo,
Professor, (2013-)
Professor Maruo received a Ph.D. from Tohoku University in 2003. She worked in Research Center of Japan Telegraph and Telephone Corp. from1986-2013.
Current research in her lab focuses on nano-technology and its application to CO2 photochemical conversion and simple analysis methods of chemical materials. Specifically, it covers the following 3 areas:
1. Co2 photoreduction catalyst including nanoparticles.
2. Simple and easy analysis methods of volatile organic compounds using a combination of nano-porous materials and chemical reaction.
3. Application of our developed analysis chips for environmental measurement and environmental evaluation.