Design engineering is an area of study which truly exemplifies the motto of our college, "From Creation to Integration." The art of design is based on the close relationship of human sensibility, society, the living environment, and scientific technology. Design, production, and ways of expression all concern the relationships between objects, open spaces and humans, and they should not be studied separately. The interaction among objects and humans, living with nature, and the problems of the regional industrial economy should also be studied based on the unity of various fields of science. Thus, under the principle, "From Creation to Integration," we aim to equip students with a high proficiency in research founded upon rich scholastic knowledge for engaging in professional work in a special field of design engineering or for pursuing research activities as an independent researcher.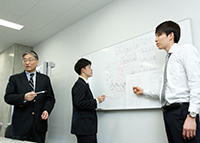 Industrial Design Group
Leader: Prof. Kiyotaka Morozumi
Research Themes: Practical Design for Improvement on Local Production and Life Style / Design Process of Suitable Tools and System for Human Activity / Reconstruction of Regional Industry by Design / Process and Practice of the Educational-Industrial Complex by Design Marketing / Development of Software Design
Environmental Design Group
Leader: Prof. Masahiro Onuma
Research Themes: Restructuring Local Livelihoods and Fostering Diverse Life-scape through Cooperative Ateliers in Rural Communities / Practical Research on Sustainable Living Environmental Design / Preservation and Utilization of Heritage Houses and Townscape / Art Work and Product Development with Natural Dye Technique
Welfare Design Group
Leader: Prof. Kiyotaka Morozumi
Research Themes: Application of Human's Potential Ability to Product Development / Research for Enhancement of Life Motivation and Quality of Life
Life Design Science Group
Leader: Prof. Yuji Koyama
Research Themes: Planning and Evaluation of Heat Circulation of Interior Climate/ Space Design and Involved Production Group and Techniques in Japan / Planning of Co-Operative Residence and Community Design
Frontline Research
Masahiro Onuma,
Professor, (2012-)
Professor Onuma received a Doctor of Engineering from Tohoku University in 2004, and he is a qualified architect of the first class. He served as an associate professor at Tohoku Bunka Gakuen University from 2004-2012.
Current research in his lab focuses on architectural designs for life and the work place with projects typically featuring the preservation, utilization and renovation of regional cultural properties in the Tohoku Region.