The Department of Civil Engineering encompasses studies to create and utilize new spatial environments required for public land and urban areas; studies on various characteristics of hazardous environments and safe environments both above and underground and studies on the dynamics and materials of structures for the construction of high-quality infrastructures. We aim at fostering excellent engineers and researchers who have an intellectual outlook on the development and environmental protection of public land and urban areas, and who have deep insight and rich scholastic knowledge.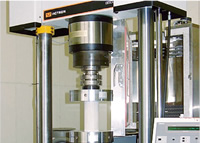 Civil Engineering Materials and Structural Engineering Group
Leader: Prof. Hideo Koide
Research Themes: Direct Tensile Testing of Soften Concrete/ Recycling Low-Rigidity/ Endurance and Maintenance of Steel Structure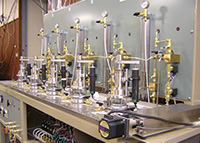 Geotechnology Group
Leader: Prof. Kwon Youngcheul
Research Themes: Slope Failure and Possibility of Debris Flow Induced by Earthquake and Heavy Rain / Stability of Foundation from Artificial Reconstruction in Urban Residential Area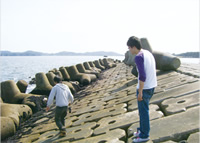 Usage of Aquatic Environment and Disaster Prevention Group
Leader: Prof. Toshihiko Takahashi
Research Themes: Usage of Aquatic Environment and Disaster Prevention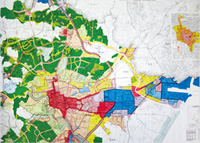 Infrastructure Planning Group
Leader: Prof. Akira Kikuchi
Research Themes: Travel Demand Forecasting/ Social Psychology/ Transportation Policy/ Contract provision and risk management for Infrastructure/ Decision making, consensus building, reliability design and performance design for Infrastructure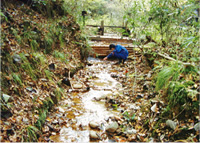 Water Cycle in Area Group
Leader: Prof. Masatomo Nakayama
Research Themes: Water Cycle in Local Area/ Pollution Loads from non-point Sources/ Behavior of Landfill Leachate Permeating into Soil
Frontline Research
Hideo Koide,
Professor, (1990-)
Professor Koide received a Ph.D. from Tohoku University in 1990.
Current research in his lab focuses on "recycle systems of concrete" and "effective utilization of waste and industry by-products as concrete materials".
1. A study on the properties of concrete using recycled concrete powder.
2. The various influences of tensile properties on "Recycled Concrete" by differences of "Recycled Aggregate".