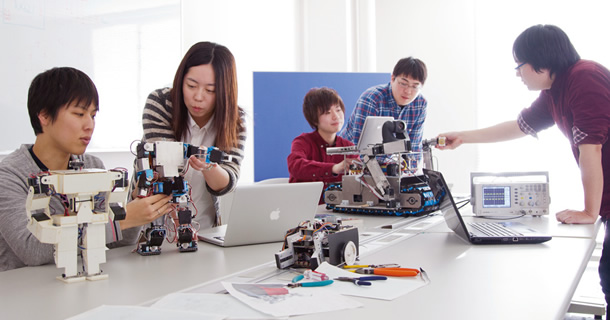 Continuing advances in electronic technologies are remarkable and their outcomes are essential to support an information-led society. Microcomputers are embedded in almost all electronic products recently. Therefore the demand for highly trained and educated graduates from electronic engineering is rising. The strong employment growth is likely to continue with considerable growth in the electronic industry. In response to growing demand from modern society, our curriculum has been designed to cover the educational requirements for students who wish to become highly skilled professionals.
All first and second grade students take a single course and lay the foundation for more specialized training in the third and fourth grades. In the last two years of the undergraduate course, students choose from options such as "Intelligent Systems Course", "Intelligent Sensing Course", and "Intelligent Device Course" depending on their own preferences. The details are given below.
Introduction of Courses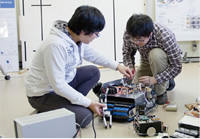 Intelligent Systems Course Featuring Robotics
Students can study the specialized knowledge of electronics and mechatronics unified with computers such as built-in computers or robotic technology.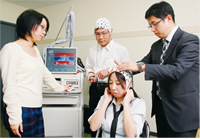 Intelligent Sensing Course Featuring Bio-Photonics
Students can study a wide range of specialized knowledge including the fusing area between optics and bio-technology and electronics regarding electronic instrument control and electronic measuring techniques.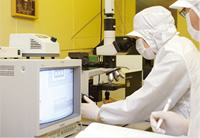 Intelligent Device Course Featuring Materials Science
Students can study semiconductor engineering which is the basis of intelligent electronics. Students will also learn all aspects of electronic devices including principles and materials of various semiconductor devices, LSI, and microcomputers.