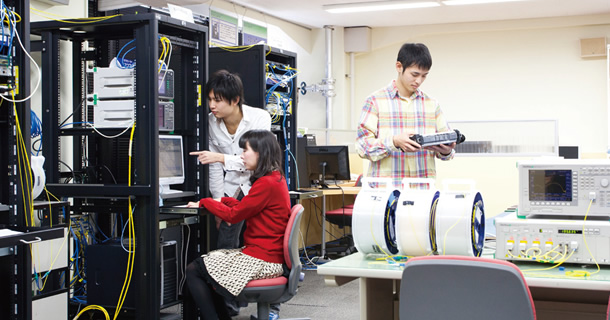 Our country is a world leader in not only computer and communication technologies but also in the fields of hardware and software development. These areas are expected to continue expanding into the future. Students in this department can study "Fundamental Technology" supporting today's IT society. Graduates of this department are expected to become technology engineers, supporting information and communication technology in society. We will welcome any students who have an interest in developing better IT in society through the construction of information and communication engineering systems. For first and second year students in this department, the course is designed to focus on the close connection between IT and other special fields. For students reaching the third grade, the department is divided into two special areas of "Communication Course" and "Information Course".
Introduction of Courses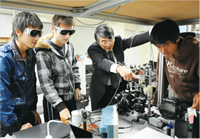 Communication Course
This course allows a thorough study of "Communication Technology". Its laboratory is roughly divided into the study area of "Light Wave", "Electric Wave", "Electromagnetic Wave" and "Mathematics".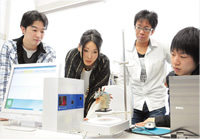 Information Course
This course enables students to study "Communication Technology" in depth. Its laboratory is roughly divided into the study area of "Programming", "Software", "Structural Analysis" and "Mathematics".